Mykonos is all about Good Vibes and Lifestyle. Fashionable Beach Bars like Nammos Mykonos, Fabulous parties, Celebrities, Chic people, Premium Concierge Services, Top Accommodation Villas, Cool Restaurants, and Incredible Energy!
---
Blue Collection Mykonos Villas – All our Villas for Rent in Greece
---
Let's have a look at the 'key places' you should not miss during your amazing vacation in Mykonos!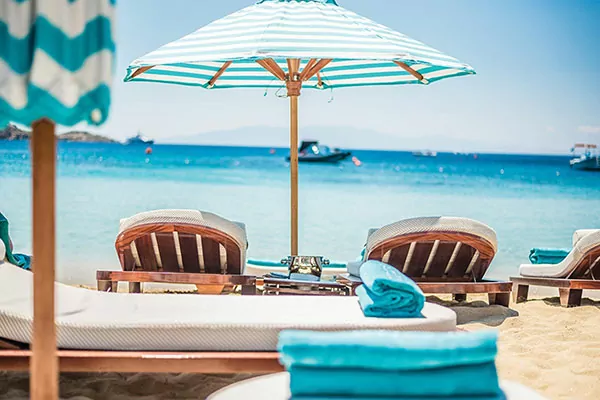 Nammos – Escape into Luxury  
At the beach of Nammos, you can enjoy the simple pleasures of life in Psarou as you are daydreaming on a Seora's Riviera Sunbed, made with high-quality mahogany and steel, a soft mattress by Loro Piana and protected under the soft shade of the Italian Tuuci umbrellas. New signature cocktails, all the classics and light bites in the menus of Nammos Beach!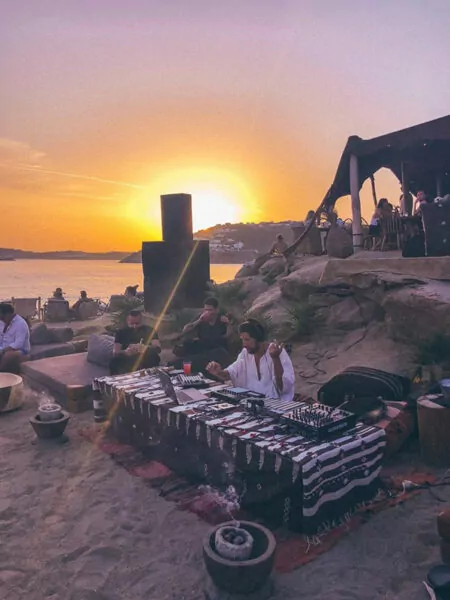 Scorpios for Sunset
There's something oddly magical and primitive about all coming together to watch the sunset, surrounded by a heady mixture of wood smoke and burning incense mingled with the breeze coming off the sea.
Once the sun goes down the party starts.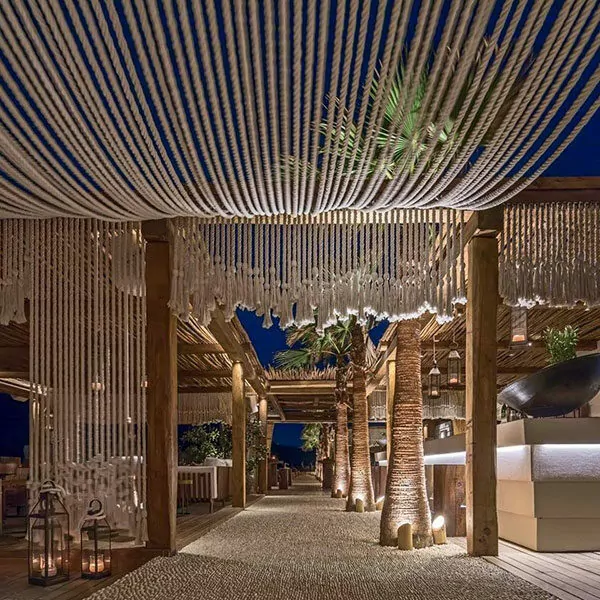 A perfect picture of class and elegance! Impressive design, exquisite ambiance, delightful food, spectacular sea views, perfect mood music…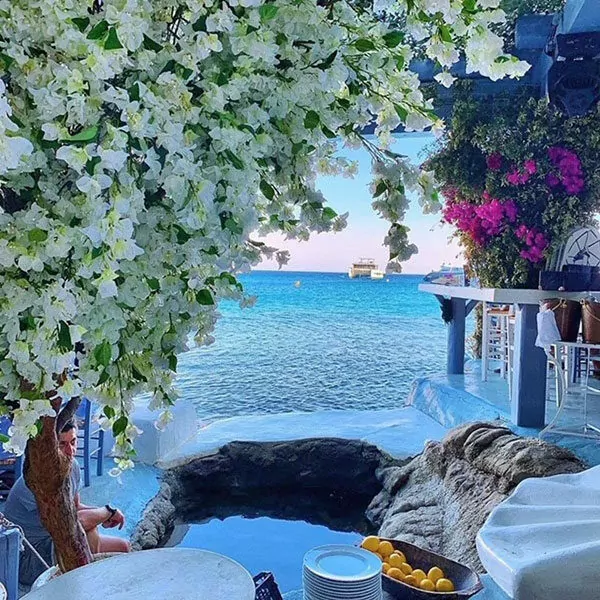 "Spilia" in Greek means cave.
One of the most iconic hotspots of Mykonos is a seaside restaurant known as Spilia. It is located in a unique place, the Agia Anna Cave, next to Kalafatis Beach.
Good food, drinks, music, service, and ambiance all combined well aiming for the guests to enjoy and have a great experience.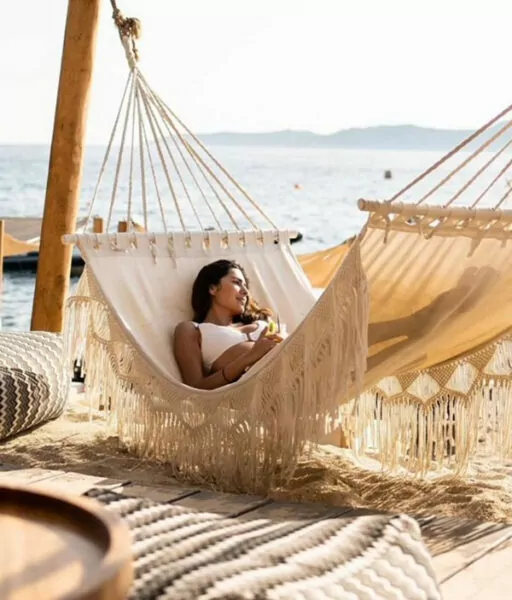 Hippie fish
Stay hippie & chic
Hippie Fish is a multi-space restaurant that has indoor & alfresco dining along Agios Ioannis beach. You can lounge around & have drinks or dine whilst watching the sun go down.
A perfect beachfront venue with stunning panoramic views of the Aegean Sea and Delos. The sunset is not to be missed.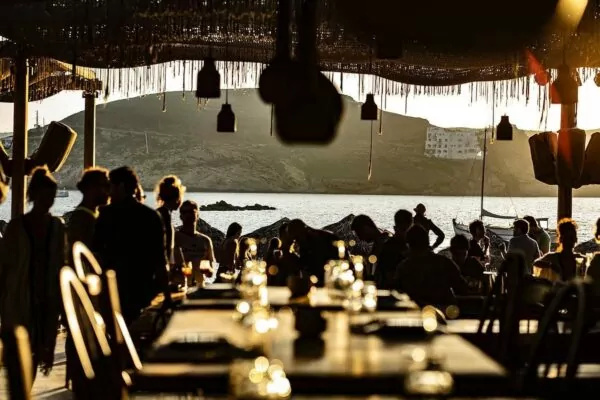 Alemagou – A beautiful boho beach bar-restaurant 
Hey, you, 11 a.m., will you please introduce me to Mrs. Early Afternoon and Mr. Sunset?
Bring only what's necessary: your swimsuit, your sunblock, your flip flops, your Panama hat, and your "surfer's" attitude without the attitude.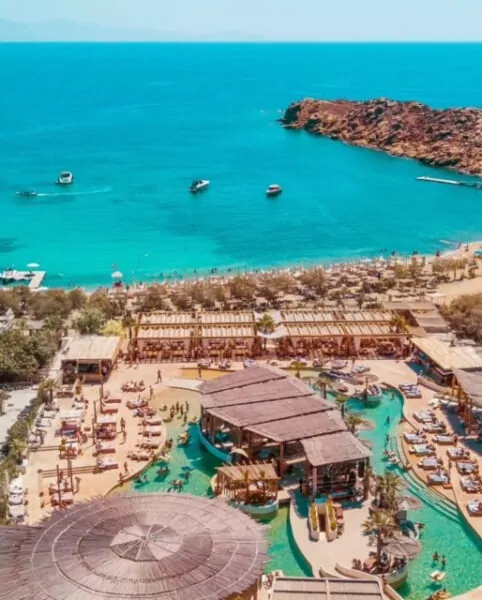 SantAnna – Relax under the sun & in the shade
A visit to SantAnna should always culminate in a champagne-infused afternoon of dancing and celebration.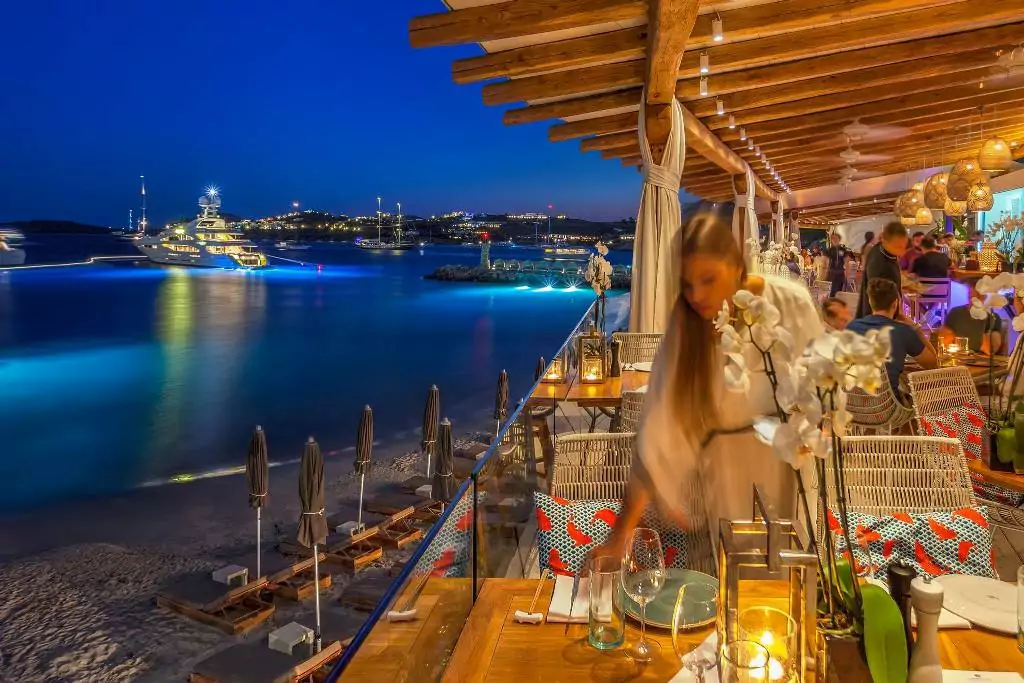 Escape to a stylish and relaxing environment.
Buddha Bar Mykonos is a luxurious dining and entertainment destination located in the Ornos- Mykonos, Greece.
The venue is renowned for its unique combination of Asian-inspired cuisine, innovative cocktails, and stylish decor, offering guests a one-of-a-kind experience.
In addition to its delicious cuisine and innovative cocktails, Buddha Bar also offers live DJ sets and special events, such as live music performances and theme parties.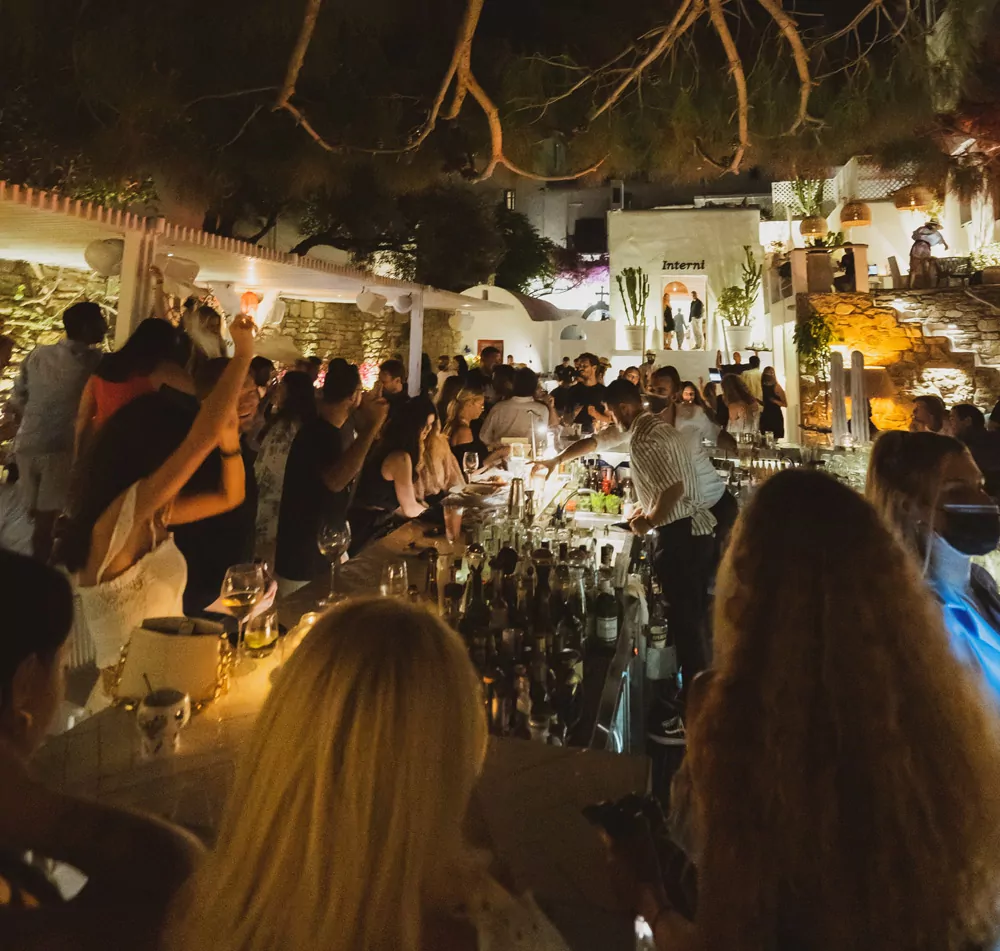 Interni
The Party Restaurant! 
Interni Restaurant in Mykonos is a chic and sophisticated dining destination located in the heart of the island. The restaurant offers a menu of modern Mediterranean cuisine, showcasing fresh and locally sourced ingredients in each dish. Guests can expect a luxurious and Party atmosphere, with elegant decor and a warm and inviting ambiance.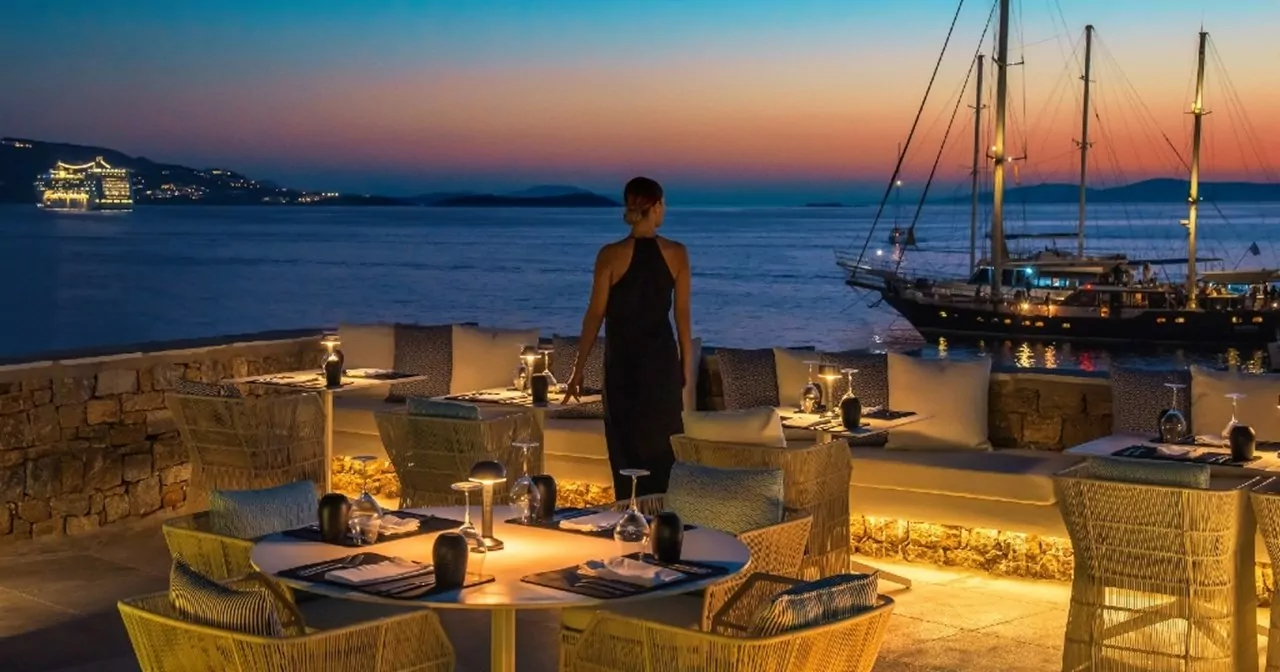 Bagatelle Mykonos  (New Entry – 2022)  
Bagatelle in Mykonos is a chic and vibrant dining and entertainment destination located in the heart of the island. Known for its lively atmosphere, creative cocktails, and delicious cuisine, Bagatelle offers guests a unique and unforgettable experience. The menu features a fusion of Mediterranean and international dishes, using the freshest and locally sourced ingredients. The decor is stylish and modern, with a touch of whimsy, creating a warm and inviting ambiance. In addition to its dining options, Bagatelle also offers a lively bar and dance floor, featuring live DJ sets and special events.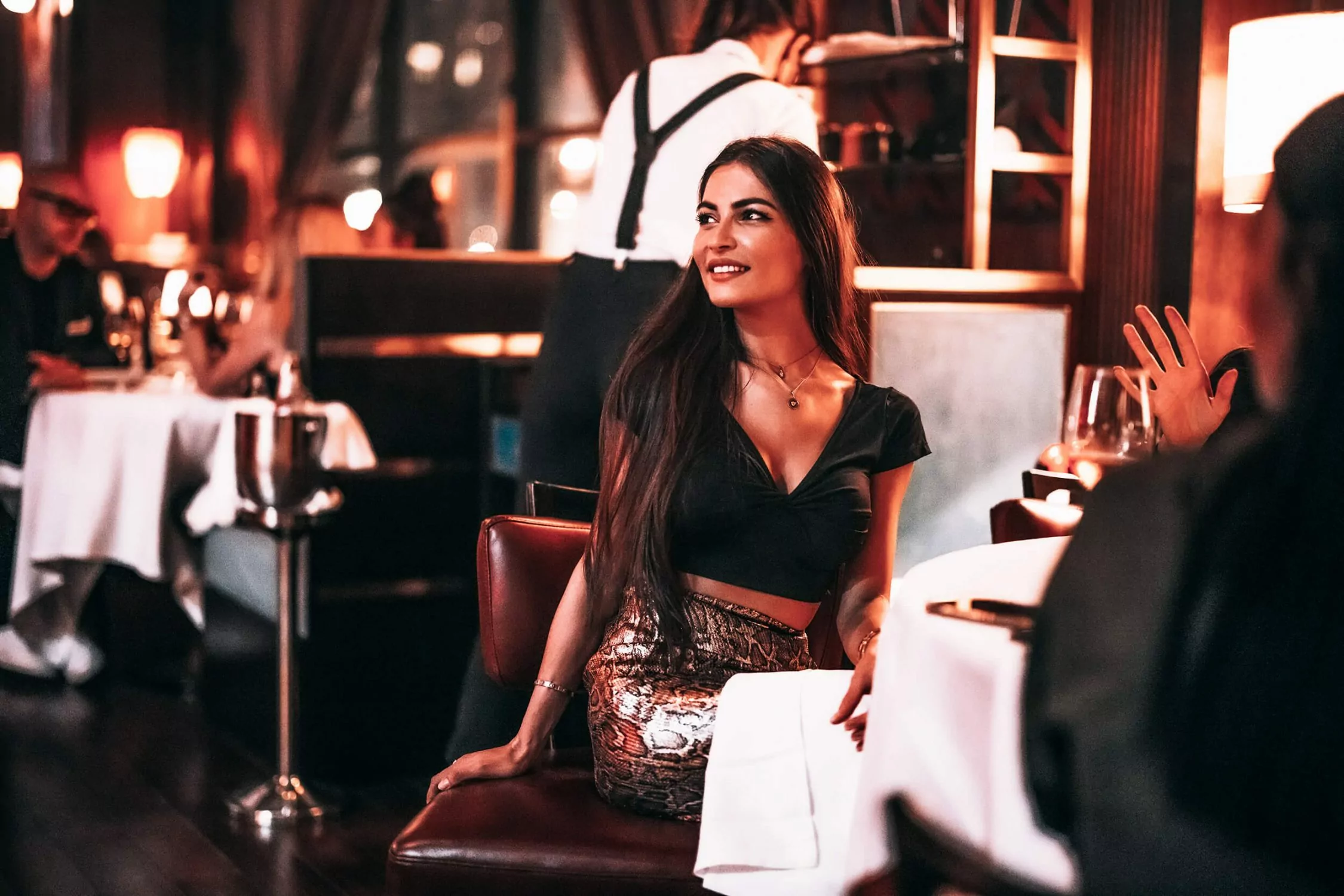 Billionaire Mykonos  (New Entry – 2022)
The Ultimate Destination for the Rich and Famous!
Billionaire Club, situated in the heart of Mykonos, is a place where the rich and famous come to let loose and indulge in a world of opulence and extravagance.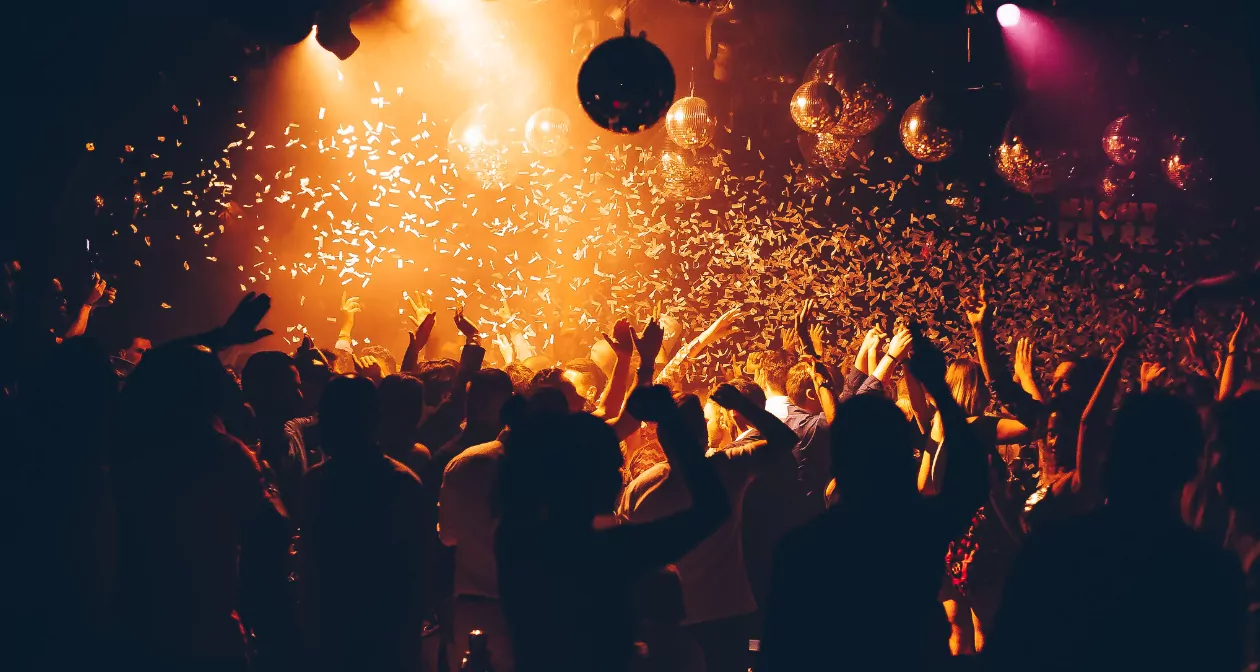 Lio Mykonos  The Cabaret !
Lio in Mykonos is a stylish and entertaining destination that offers guests a one-of-a-kind experience. The cabaret features a talented cast of performers, including singers, dancers, and drag queens, who bring their unique flair to the stage.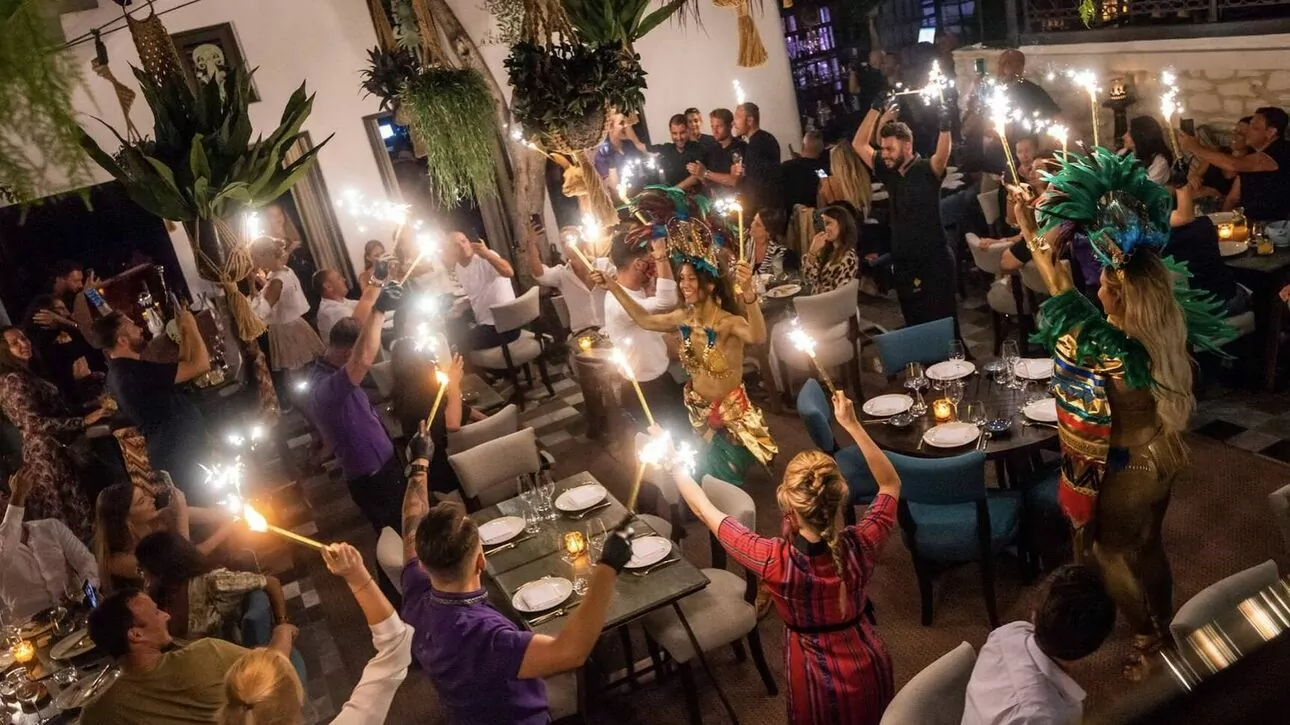 Coya is a high-end bar-restaurant located in the heart of Mykonos town, just a few steps away from the iconic windmills. The name "Coya" means "queen" in Quechua, the language of the Inca empire, and the concept of the bar-restaurant is inspired by the rich culture and traditions of South America. At Coya, guests are transported to the vibrant and colorful world of South America, where they can experience the music, flavors, and atmosphere of this fascinating region. The bar restaurant features a unique décor, with brightly-colored walls, intricate patterns, and Inca-inspired artwork. The menu, which is influenced by Peruvian cuisine, offers a range of delicious dishes and cocktails, each with a unique twist that sets it apart from other venues in Mykonos.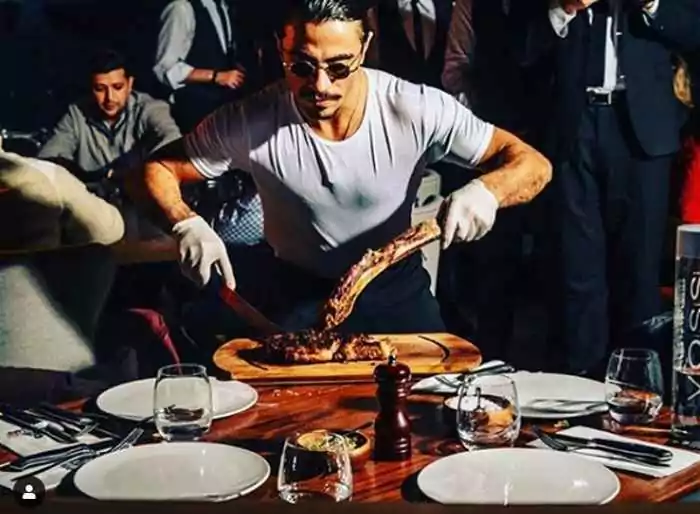 Nusr-Et, the renowned Turkish steakhouse chain, has recently opened its doors in Mykonos, offering a premium dining experience unlike any other. Founded by chef Nusret Gökçe, Nusr-Et has gained worldwide recognition for its juicy and succulent steaks, prepared to perfection using the highest-quality ingredients. When you step inside Nusr-Et Mykonos, you will be transported to a chic and modern setting, with a decor that is both stylish and comfortable. The atmosphere is warm and welcoming, with an open kitchen that allows you to watch the chefs in action as they prepare your meal. Additionally, the restaurant features a spacious outdoor terrace, perfect for enjoying a meal al fresco on warm summer evenings.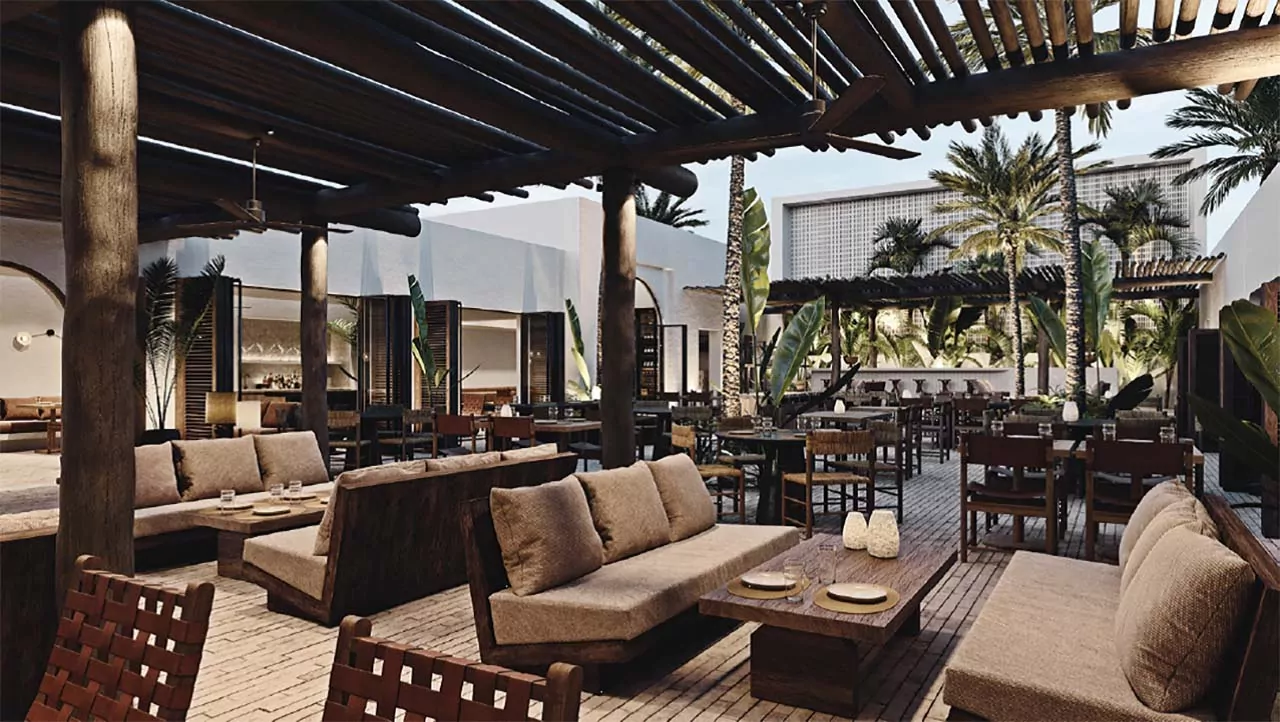 Noema is one of the must-visit places for foodies in Mykonos. This restaurant is the perfect combination of traditional Greek flavors and modern culinary techniques. Noema Restaurant is a true foodie's paradise. With its high-quality food and exceptional service, it is the perfect place to enjoy a meal in Mykonos. Whether you're a fan of traditional Greek cuisine or simply looking for a delicious meal.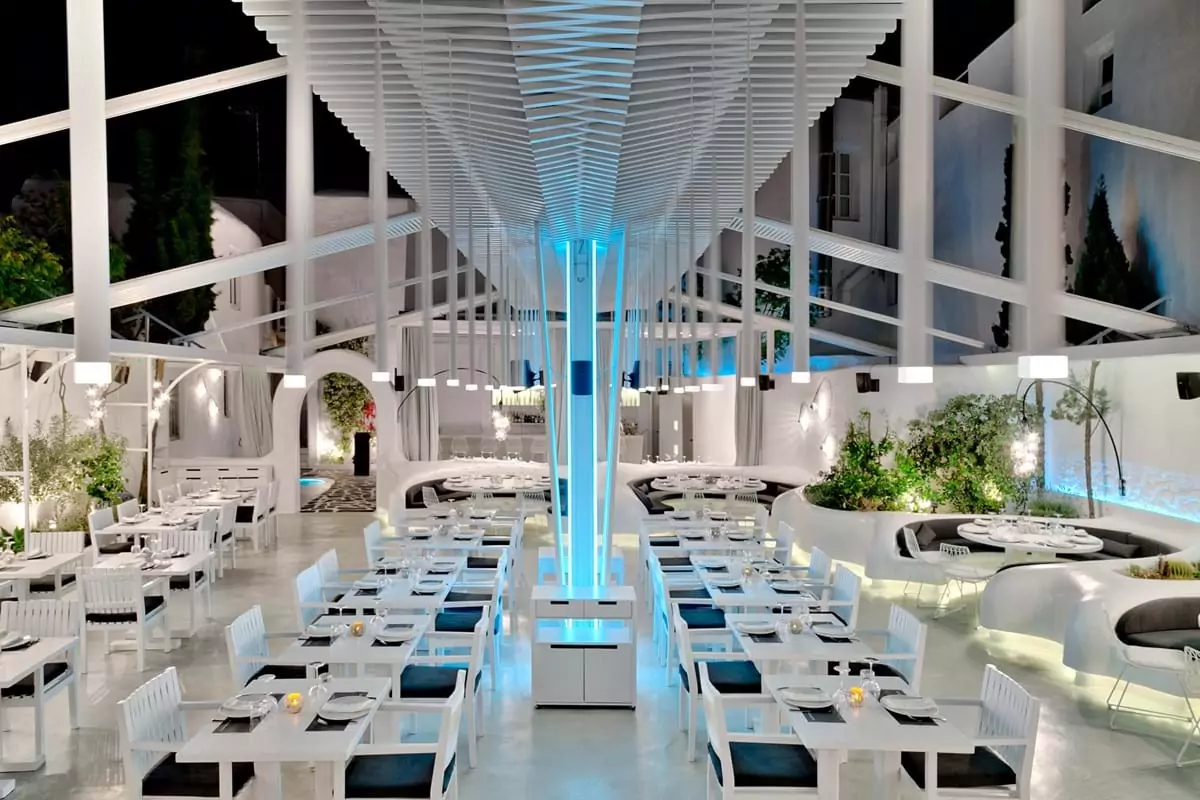 Koursaros Restaurant is renowned for its delicious and diverse menu. Whether you are in the mood for fresh seafood, Sushi, or hearty pasta dishes, there is something for everyone here. The menu features a variety of local and international dishes, each crafted with fresh ingredients and a touch of culinary creativity.
One of the highlights of the menu is the fresh seafood. The restaurant sources its seafood from local fishermen, ensuring that each dish is made with the freshest and most flavorful ingredients. The grilled octopus is a must-try, as is the bouillabaisse, a traditional Mediterranean fish stew. Koursaros Restaurant stands out as one of the best places to dine on the island.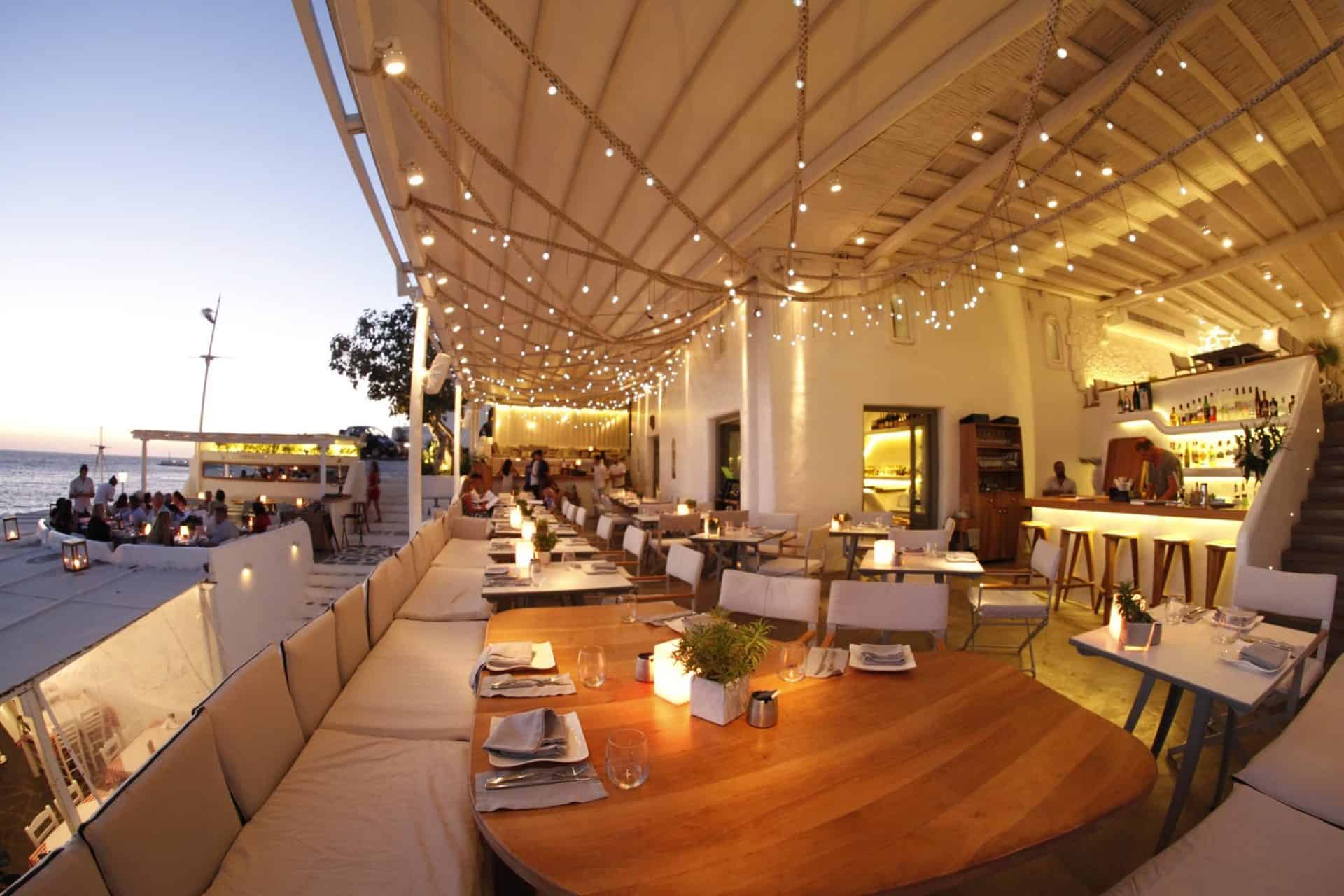 Remezzo has been a staple of Mykonos' nightlife scene since the 1980s. It has been at the forefront of the island's party culture and has been host to some of the most legendary parties and events in Mykonos' history.
With its rich history, Remezzo has established itself as a symbol of Mykonos' vibrant and lively nightlife.
One of the first things that sets Remezzo apart is its location.  Situated on a hilltop in the heart of Mykonos Town, the restaurant offers breathtaking views of the Aegean Sea and the surrounding Cycladic architecture. Whether you're dining al fresco or in the air-conditioned interior, the vista from Remezzo is simply stunning.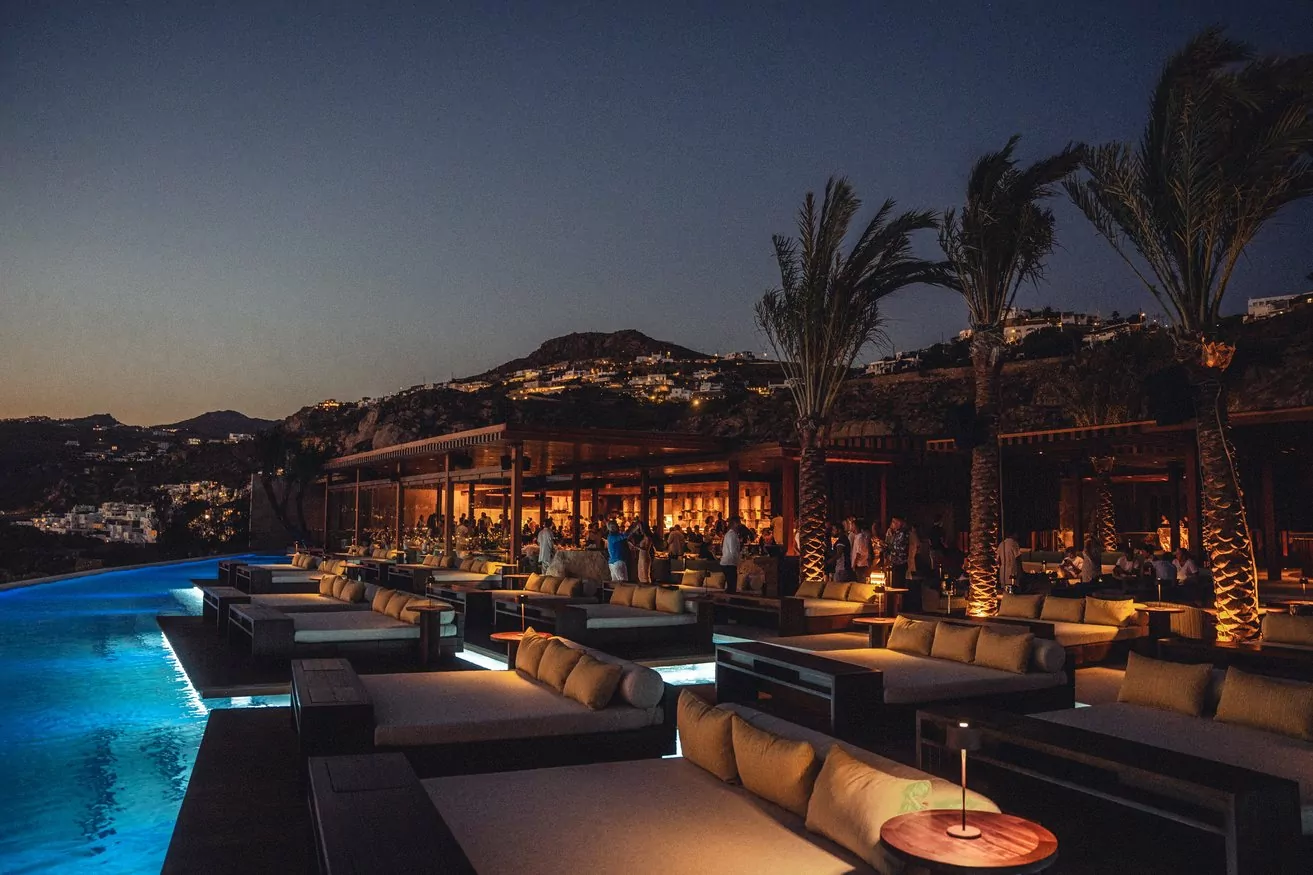 Zuma Restaurant was founded in 2005 and has since grown into a globally renowned chain of restaurants, with locations in cities such as London, Miami, Hong Kong, and Istanbul. The Mykonos location opened its doors in 2017 and has quickly become one of the island's most popular dining destinations. Zuma Restaurant is renowned for its innovative Japanese cuisine, served in a chic and contemporary setting. Zuma Restaurant is one of the best dining destinations in Mykonos and is the perfect place for food lovers who want to enjoy delicious Japanese cuisine in a stylish and sophisticated setting. With a diverse menu, fantastic atmosphere, and outstanding service, Zuma Restaurant is the ideal place to celebrate a special occasion or simply enjoy a wonderful meal with friends and family.
Make your reservation through our Mykonos Concierge dept. and enjoy peace of mind and 24/7 Premium Services.