Blue Collection, The Leading Official Provider in Mykonos – Greece for Luxury Villa Rentals, VIP Concierge and Security Services became the winner of the International Award of Luxury Lifestyle Awards 2018.
Luxury Lifestyle Award recognizes best of the best luxury brands all over the world. It includes more than 50 countries across 4 continents. The Luxury Lifestyle Awards logo is one of the world's most recognised and respected brands, providing assurance of the highest quality and representing pioneering excellent innovation.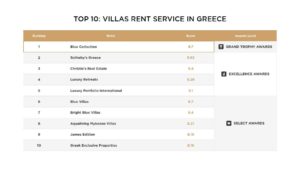 MAKE YOUR HOLIDAY EXQUISITE —VISIT GREECE !
Greece is definitely a dreamland for your luxury getaway — from the picture-perfect sunsets of Santorini, through the incredible historic charm of Athens and to a perfect secluded getaway on one of the country's 6,000 islands and islets in the Aegean and Ionian Seas.
Greek cities are full of extravagant experiences: luxury restaurants and hotels, private yachts and villas, and tours, designed uniquely for you.
In the category of Villas Rent Service, Luxury Lifestyle Awards distinguish the best providers of this extravagant, secluded type of holiday experience. It is perfect for those who seek a sweet escape from the daily hustle.
Find the best Mykonos Villas and Luxury Chalets in top Ski destinations and let the professional staff attend to your every need and organize a unique personalized vacation you deserve!
Blue Collection was established in 2012 with the purpose of providing Selective Real Estate Services,  Luxury Villa Rentals, Event Planning and Management, Private Jet & Yacht Chartering, Premium Concierge and Close Protection Services in Mykonos Island to companies and organizations in the Private and Public Sector.
Today Blue Collection is the Leading official provider for Luxury Services in Mykonos and it has a Network of offices and partners situated in Athens and other Selected Destinations in Greece as well as in Paris, Cannes, Nice, St. Tropez, Monaco, Courchevel, Gstaad, Ibiza, Americas & Caribbean.
With great knowledge of the Greek Islands, expertise and professional experience being a few of our valuable assets, we fully meet our customers' expectations, in utter respect of their demands like Luxury Villa rentals including all possible services as well as premium concierge, security and close protection services.
Blue Collection can advise its clients on the latest trends of the Greek market and to provide access to the finest properties in Mykonos and in other destinations in Greece.
Blue Collection Team mission is to collect luxury properties throughout Greece with a truly unique character and to provide to our clients, highly personalized services focused on success and client satisfaction through perseverance, determination, and commitment.
The services provided by Blue Collection cover the entire range of our Visitor's demand, with a emphasis in the sectors of Real Estate, Luxury Villa Rentals, V.I.P & Premium Concierge Services, Event Planning& Management, Car Rentals, Yacht & Private Jet Charter, Security & V.I.P Close Protection Services.
Our agents possess all the professional qualifications and expertise accorded by the international real estate standards, and are thoroughly equipped to assist our clients or guests on every level, as they venture into villas and property rentals, sales and acquisitions on the unique island of Mykonos and other Greek and international destinations in our new portfolio. We offer an impressive collection of luxury properties for rent & sale and are known to specialize in customized accommodation of requests from the world's most affluent and discerning guests, buyers and sellers.
Our villa rental department is also known for dynamic activity, providing clients with a comprehensive selection of property rentals and excellent concierge services. Our team has intimate knowledge of the Greek islands and also in every destination we operate, so by recognizing the value of genuine hospitality we aim to exceed our guests expectations ….every time, every day in every detail !!!